Medical Billing Profitability in 2019
Posted on January 3rd, 2019 / Under Medical Billing / With No Comments
Medical billing is profitable when a Medical Practice uses the services of an experienced medical billing company, which has over-time continuously trained its people, to oversee the processes of submitting and following up on claims with health insurance companies.
There's a high tendency that revenue being generated would never be as high as it would be, with in house billing. As a matter of fact, which is statistically proven, over 40% of a physician's revenue ends up becoming lost due to loopholes and mistakes people make in the medical billing processes.
In times past, we've had complaints from various health providers and have come up with the best strategical ways of improving your medical billing profits in 2019. I'm going to be listing few of these tips below:
1. Coding and Billing:
Medical billing is not the same as Medical coding. They are two different things entirely, even though they work hand in hand towards achieving same goals. A medical coder reviews clinical statements and assigns codes while a medical biller processes and follow up on claims. If an office should make the mistake of employing an inexperienced coder or an amateur biller, such medical practice stands a very high risk of losing valuable profits.
2. Insurance Verification:
As simple as it may look, insurance verifications can be so confusing which is why is so paramount to acquire all the identifying information from the patients before a claim is initialized. Prior to this, the billing department will be able to bill the exact payer the first time, thereby preventing delays in compensation.
3. Rapid & Aggressive Follow Up:
Despite the daunting tasks the billing department faces on a daily basis, they still create time to follow up on all the enquiries they receive. Failure to do so might lead to a slight delay in the physician's income.
4. Verify Real & Exact Payments:
It is important to always cross-check for payments that hasn't been made yet in order to maintain a 100% efficiency ratio.
5. Dispute Denied Claims:
There's a possibility that a claim can be voided or unattended to, however, to fast-track these payments, a medical billing department has to follow up on all denials.
You could be losing hundreds of thousands of dollars a year if you entrust in the wrong biller.
Let One Source Medical Billing help by doing a FREE comprehensive audit and show you the reality.
Read More...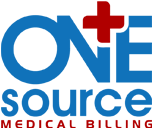 Categories