Telehealth / Telemedicine
Posted on December 7th, 2020 / Under Medical Billing / With No Comments
COVID-19 has not only changed the manner in which patients receive medical care but has also caused an upheaval in billing procedures. Early in 2020, CMS (Centers for Medicare and Medicaid Services) moved quickly to implement coding changes for telemedicine care. With the wide variety of virtual services available for Medicare, Medicaid, and private insurance patients, billing is now more complicated than ever.
Challenges in Adapting to Telehealth Regulations
Has your office kept up with the many pages of new virtual care regulations? Has your staff been downsized to the point that it is difficult for them to receive the training needed? Your office may not be realizing all the full compensation your services are entitled to receive.
Are you aware of the many different services available via telemedicine now? Virtual routine healthcare, such as wellness visits, is the biggest benefit in preventing the spread of the coronavirus, but nutrition and mental health counseling, skincare, and medication consultations are also encouraged.
Benefits of Telemedicine
If your office has not started using telehealth yet, it is something every doctor's office needs to be taking advantage of. A virtual visit requires 2-way communication technology, which is readily available on many secure platforms. Video streaming is typically used, but some virtual visits can be done with voice communication alone. Although some services require in-person visits, telemedicine can generate up to $600 annually for patients needing chronic health management.
Simplify Telehealth Billing With Us
Our team of experts at One Source Medical Billing will take the confusion out of the medical billing process and increase your bottom line while freeing the rest of your staff to provide the best possible care for your patients. We are a full-service billing service, handling the initial claim, resubmissions, dispute billings, and payment posting, as well as balance billing to the patient.
Virtual healthcare does not have to be complicated. Let One Source Medical Billing make it easy for you while increasing billable revenues. Call us today for a consultation at 888-624-5563
Read More...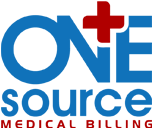 Categories