Our Expertise and Knowledge of Constantly Changing Guidelines
Posted on February 6th, 2017 / Under Medical Billing / With No Comments
Our expertise and knowledge of constantly changing guidelines and insurance submission, help you get paid faster, minimize re-submissions, boost revenues, and decrease labor costs.
In the past few years, the red tape and guidelines surrounding the medical billing industry has increased exponentially. In 2015, the ICD-10 was updated to include a further 50 000 medical DX codes. This complexity makes in-house medical billing increasingly difficult. Many of our clients complain that when they were using an in-house solution, resubmissions were common and insurance submission mistakes plentiful. All of this influences one thing – your revenue stream. Mistakes and resubmissions equal longer payment times and a troubling cash flow.
Outsourcing your medical billing can provide a quick and easy solution to this issue. Our experts work with multiple different clients and have a wealth of experience with changing guidelines. This means they are excellent at payment submission and follow up with non-payers aggressively. Their mistake free, hard work can drastically improve payment times for you. This results in improved revenue, allowing you to spend more time on the important parts of your business and stop worrying about medical billing.
On top of this, outsourcing means you don't have to worry about hiring and firing in-house medical billers. Knowing which staff are experienced enough to understand the guidelines when you yourself do not. It is not an easy job and many healthcare providers find that their in-house billing department is slow and inefficient. At One Source Medical Billing, all we do is medical billing and our employees are experts at navigating the red tape. On top of this, Labor costs are significantly reduced with an outsourced solution. You need not worry about pay raises, insurance, and benefits for staff. Instead, you get an expert team of billers whose only goal is to improve your revenue stream.
If you find the changing guidelines troubling, or simply want to decrease payment times and increased revenue get in contact with us now to speak with an advisor. Our team knows the red tape inside out, and could drastically improve your payment times. An outsourced solution can also save you a ton of money in labor costs.
Read More...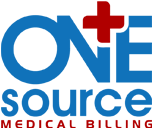 Categories