5 Ways Outsourcing Your Practice's Medical Billing Can Increase Profitability
Posted on June 11th, 2019 / Under Medical Billing / With No Comments
Physician practices nationwide are feeling the burden and frustration of increased regulation, mounting administrative duties, decreased reimbursements, rising costs, and changing payment models. In fact, a recent survey conducted by the Medical Group Management Association found that nearly nine in 10 medical practice leaders said that the overall regulatory burden has increased in the past year. Additionally, 76 percent of physician respondents feel these changes have not improved the quality of care for patients. (1)
Many believe that these increased administrative burdens are a significant contributor to the soaring rates of physician burnout. As physicians and healthcare leaders question the direction of the healthcare landscape, some practices are seeking new ways to reduce their administrative burdens and increase profitability.
More and more practices are looking towards outsourcing their revenue cycle management, medical coding, and medical billing as a way to help improve profitability, reduce administrative duties, and increase reimbursements.
There are a multitude of benefits that outsourcing can bring to a practice including:
1) Allows for more time spent on patient care- Medical practices that outsource these services are able to spend more time focusing on providing excellent quality care to their patients.
2) Reduces administrative duties- Practices that outsource spend less time handling phone calls regarding claims, pre-authorizations, and communicating with insurance carriers and third-party payers. This time is better spent responding to patients, and managing other day-to-day operations.
3) Reduces overhead costs – Practices that outsource their medical billing, save on salaries, office supplies, office space, software, and computer equipment.
4) Increases profitability- Medical Practices that outsource revenue services experience a decrease in overhead costs, an increase in more timely submission of medical claims, reduced coding errors, reduced denials, and increased reimbursements.
5) Improves patient satisfaction- One of the most important benefits of outsourcing medical billing is the ability to spend more time with patients which results in better quality care and higher patient satisfaction.
If your medical practice is looking for ways to reduce costs, decrease administrative burdens, while improving profitability, please contact the experts at One Source Medical Billing. Let our highly trained specialists work for you!
Contact us at 888-624-5563 or [email protected] for a free consultation.
Read More...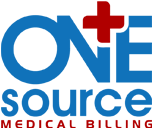 Categories