ICD-10 and how it impacts YOUR medical billing process !
Posted on March 11th, 2017 / Under Uncategorized / With No Comments
ICD-10 and how it impacts YOUR medical billing
if youre not an expert on it, it could delay your payments and require painful re-submissions
The medical billing industry has changed drastically in the past few years. In October 2015, the updated ICD-10 came into effect. The ICD-10 is also used to code and classify mortality data from death certificates. Whilst many improvements in the codification of mortality was made in the ICD-10 over the ICD-9, it also comes with a massive increase in complexity. The update includes a further 50 000 medical DX codes (up to 70 000 from less than 20 000). Doctors and billers need to be far more precise with their diagnostic codes in the update. On top of this, estimated time to code 1 patient has increased 69% with ICD-10 (because of this increased complexity). This means that in house billers need to work faster to achieve the same results.
The issue is that this increased in complexity makes the process far harder to follow. The ICD-10 is draped in fresh red tape and unless you are an expert, it could delay payments and require painful resubmissions. Outsourcing your medical billing to OneSourceMedicalbilling can alleviate you from this stress. With us, you know you are getting experienced staff with years of experience and multiple clients. They are experts at mediating the highly complex ICD-10 to decrease resubmissions and delayed payments.
ICD-10 has profoundly impacted the medical billing community by increasing complexity. This has caused in house billing to suffer a number of issues. Errors in coding have gone up and time to code has also increased. Overall this has caused decreased revenues and increased payment times for many healthcare providers. Switching to an outsourced solution can fix these issues. Our team of experts are fast and make fewer mistakes. Contact OneSourceMedicalBilling for a quote now.
Read More...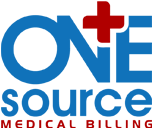 Categories